5 Tips To Make Moving Home Easy
If you have ever moved house before, you will know how stressful it can be on you and your family. Making sure you haven't forgot anything, to ensuring nothing gets broken.
But there are ways to make your moving experience much easier. Here are 5 tips to make moving home easy:
Put the tasks down in writing
Write down a list of everything you need to do before moving day. A moving house checklist will help you keep on track and make sure you haven't forgotten anything important. If you have any friends or family who have moved, it could be worthwhile asking them for some recommendations too.
Get rid of any unwanted items
If you have any items around the house that you no longer want or need, get rid of them before moving day. This will not only declutter your home, but it will also save you time and money when it comes to packing and transportation costs. You could either have a garage sale, donate items to charity or simply throw them away
Label Boxes For Each Room
This will save you a lot of time and hassle on moving day. When you are packing up your belongings, make sure to label each box with the name of the room it is going into.
If you do things in advance, not only will you save time later on, but there's also less chance that something will go wrong such as breaking items when you rush!
Hire a professional moving company
One of the best ways to make your move easier is to hire a professional moving company. They will be able to handle all the heavy lifting and transportation for you, so you can focus on other things
And while it may cost you money, it will save you time, energy and stress in the long run.
Pack an essentials box
Moving can be chaotic, so make sure you pack an essentials box with all the things you will need on moving day such as toiletries, snacks, drinks, phone chargers etc. This way you will be able to easily find everything you need when you need it.
There will be nothing worse than having to try and locate something through a ton of boxes!
Wet rooms stand testament to modern bathroom design, merging functionality with luxury. Unlike traditional bathrooms, wet rooms offer an open, barrier-free space, eliminating the confines
CONTINUE READING
Wet rooms stand testament to modern bathroom design, merging functionality with luxury. Unlike traditional bathrooms, wet rooms offer an open, barrier-free space, eliminating the confines
CONTINUE READING
If you live in a small space, you know the struggle of making your home feel bright and spacious. Even with the best layout and
CONTINUE READING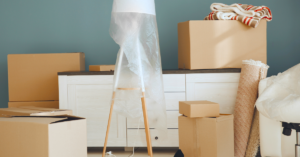 If you have ever moved house before, you will know how stressful it can be on you and your family. Making sure you haven't forgot
CONTINUE READING
Subscribe to our newsletter